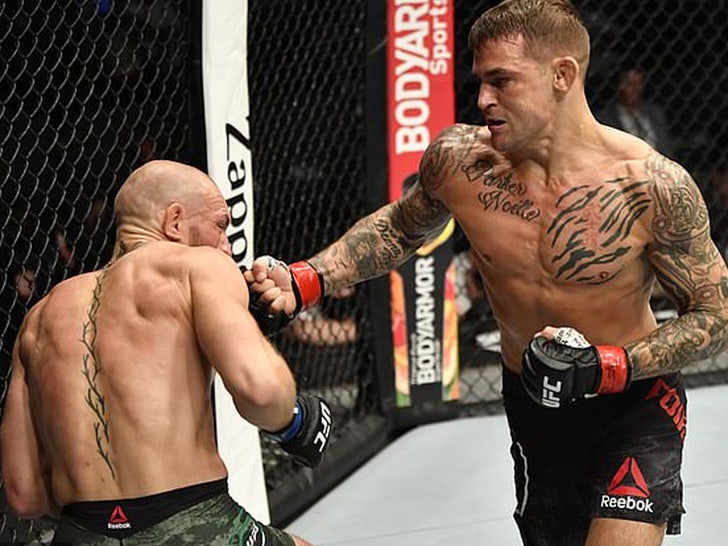 Breaking News
The Diamond just KNOCKED OUT Conor McGregor at UFC 257 — and man, was that violent!!!!
McGregor seemed to be in control in Round 1 — but Dustin took over in Round 2, obliterating McGregor with a series of shots before ending it with a strong right hook that sent Conor right to the mat.
Dustin avenged his 1st round loss to Conor when they fought in 2014 — a fight Dustin has wanted to run back for years!!
Dustin's game plan was obvious — he targeted Conor's legs hoping to wear the guy down … and he did just that.
After the fight, Dustin called a 3rd fight with Conor — and bragged he's the best boxer in the UFC.
Conor was respectful after the fight — and offered an explanation for the loss.
"I just wasn't as comfortable as I needed to be," Conor said after the fight … insisting he's been out of the octagon too long to compete with the best in the world.
It was McGregor's first fight since January 2020 — when he defeated Cowboy Cerrone in a 1st round knockout.
Before that Conor got beat up by Khabib Nurmagomedov at UFC 229 in October 2018. He hadn't fought before that since Nov. 2016.
Here's the bottom line for Conor — it would be hard for Khabib to be impressed enough by Conor's performance to warrant a rematch.
On the other hand, Dustin looked great … and Michael Chandler made one helluva statement in his 1st round knockout of Dan Hooker.